About us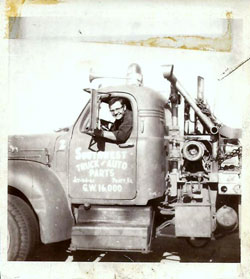 Southwest Truck Parts, Inc. has been in operation for over 50 years. Started as a sole proprietorship at the Junction of Highways 54 & 61 in Pratt, Kansas, it has grown in size with three additional locations and a workforce in excess of 80 employees.
The business specializes in servicing the Heavy-Duty Truck Industry. Operations provide diversification in the form of a new parts operation, the production and sale of rebuilt transmissions and rear-ends, the sale of new and used trucks and equipment, a repair shop, a machine shop, a frame shop, and a salvage operation.
The market is international. Although a significant amount of sales are generated within our direct trade area, we ship product throughout the continental United States. We export on a constant and expanding basis.
We are members of CVSN National Truck and Equipment Association, both trade organizations and HDA Truckpride, the largest provider of parts and services to the commercial vehicle market.
The future looks positive for the company into the 21st century, as costs continue to rise for our customers, Southwest can provide viable service and parts alternatives at our locations. We provide bumper to bumper parts and service coverage.
History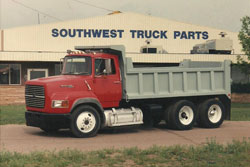 The original business was located 1/2 mile east of present day operations. The name was 54 Auto Salvage. The decision to focus on heavy duty trucks was made in 1965. The business name was changed in 1966. A warehouse for rebuilt units was added in 1982 and a body shop was erected in 1984.
In 1983, the facilities of what was formerly Schaefer Plow were acquired. Today this facility houses the salvage operation and the administrative offices.
In August, 1987, the Ponca City, Oklahoma location was established at 209 S. Second. In 1990 the outlet was moved to its current location of 517 S. 2nd. As of June 28, 2023 this location is now closed.
In June, 1988, a store was started in Enid, Oklahoma at 1222 E. Willow.
In April, 1995, the Woodward location was established at 320 NW Highway 279 North